Artisanal salt comes from the salt marshes of the French Atlantic coast, from Charente to Brittany.
Thanks to sea water, sun and wind, salt crystals grow naturally in our clay ponds. Marsh workers, called salt workers or salt workers, delicately harvest the coarse salt and fleur de sel by hand. To offer you all the benefits of the Atlantic Ocean when using it, our artisanal salt remains raw and does not undergo any refining, treatment or addition.
The Coarse Salt
Coarse salt, also called gray salt, crystallizes at the bottom of the « œillet »basins by agglomeration. The salt worker pulls it out of the water with the help of the spar and forms an airy, in the shape of a small pyramid.
It will drip overnight on the table before being transported by wheelbarrow and stored on the mulon.
These crystals are translucent, tinged with gray, and have a pronounced salty flavor and long finish.
It will be used in cooking: for cooking in water, crust, casseroles, smokes. It can also be used in the bath to find the benefits of the Atlantic Ocean.
The Fleur de sel
Fleur de sel is a naturally fine, white salt that crystallizes on the surface of the water as a thin, ice-like layer.
It is delicately picked using the flowering lousse.
This fleur de sel, very moist, will then be laid in the sun on wooden tables so that it dries.
These surface crystals are translucent and white in color, they are very crumbly and have a light salty flavor.
The fleur de sel will be used directly on the plate, in your dishes (at the end of cooking), vinaigrette, sauces or in desserts (caramel, chocolate …).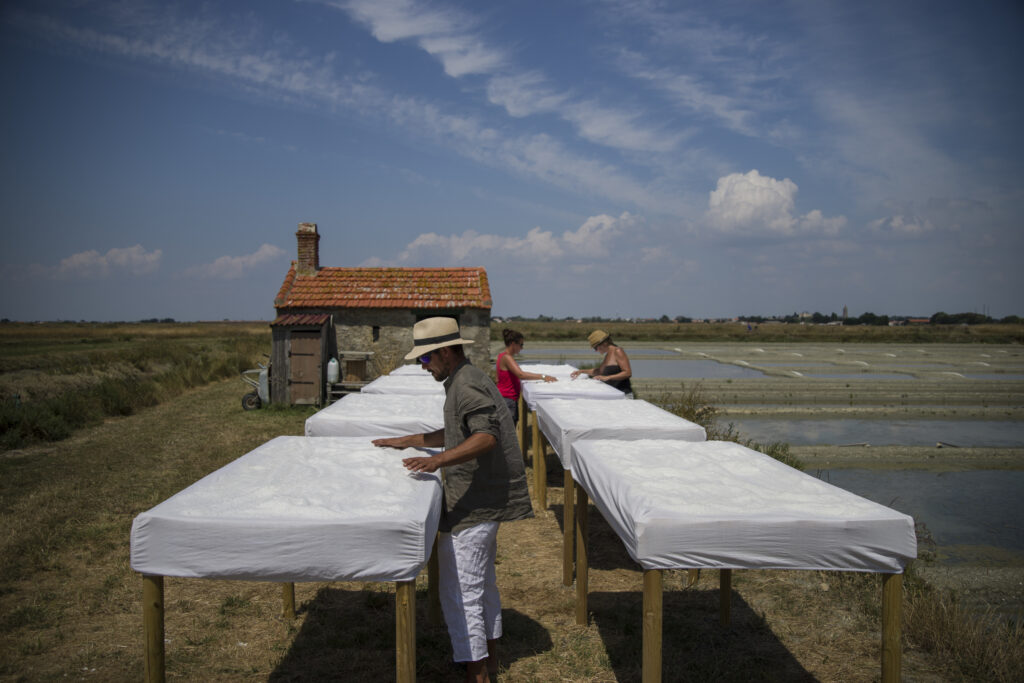 Flavored salts
We offer salts flavored with spices from organic farming, let your imagination run wild!

The spices mixed with fleur de sel add flavor to your plates.
Example: fleur de sel with Espelette pepper with duck breast or scallops, curry with fried eggs, shallot or thyme on a sea bass, 5 berries or garlic and parsley on barbecue meat …
The coarse flavored salt will add flavor to your cooking.
Example: coarse salt fish Short broth for fish, shellfish or soup, Aztec coarse salt spices for rice, Provençal coarse salt for pasta or simmering ratatouille…